ORALE | MEXICAN KITCHEN IN THE  HEART OF HUAQIANGBEI
So we planned to have a movie weekend. Creed II and Bumblebee were typical choices. The bros were on hand for banter and chuckles. Then we needed a place to eat. Enter … Órale – Mexican Kitchen.
"
Authentic Mexican Food in the Heart of HuaQiangBei" claims the menu. The menu at Orale; interestingly, is quite large for such a streamlined selection, but I appreciated the photos and description of ingredients in each mouth-watering dish. I can say how authentic The food is (or how much more authentic it is than any other Mexican restaurant) but I can be sure of one thing; it is in the heart of HuaQiangBei! The menu is split in two; one side for Mexican dishes, and the other "International Classics with Our Mexican Touch", featuring dishes such as salads, burgers, toasted sandwiches, fried rice, sides, and a few desserts. We opted for the food of Mexico, leaving the rest for our next visit.
We arrived around 7 Pm. It was dusk, and the place was oddly empty. I was, rather naively maybe, expected Órale to be a lively hidden gem with Spanish tunes echoing through the alleys from its Passionate, guitar-equipped live musicians. Instead, there were a few regulars quietly munching down nachos and dips. Maybe Sunday just isn't a busy night.
But anyway, that matters little … we came for the food, and the food shall be [primarily] how it's judged. In a word, it is glorious. It is what I would refer to as hearty food. It is delicious, but not In a way that promises too much, or in a way that's all pizzazz and no substance. This food is a heart on a plate, and if that wasn't enough it's also affordably priced. It's no-frills, yet it's the best Mexican I've ever had. It feels as though most of the menu are variations on the same thing; tortilla with chicken/beef and refried beans/guacamole. But this was great because I love all those ingredients! Our feast was a success, and We all left Órale very, very full.

The FavourWas a starter-size dish I'd not had before called Sopes; which involves a thick tortilla base topped with a choice of meat, then parmesan, beans, lettuce, and tomato. The beef Sopes (22 RMB) was an absolute delight. Easy to handle, moreish, and and leaving you wanting more. So I obliged, and ordered the Chicken one too! That was 17 RMB. Before that was an enjoyable Chicken Burrito w/chips (above, left). That comes in small (38 RMB) or large (58 RMB). Then came a beef and bean-topped crispy tortilla inelegantly named Tostadas (less easy to handle!), followed by beef-filled tortilla tubes called Taquitos (above, center), and finally the scrumptious shared Dish of Beef-Mushroom Fajitas (above, right [highlight: the tortillas come in a neat Chihuahua Mex pouch]). Prices for those; 25 RMB per Tostada, 45 RMB for three Taquitos,And 65/88 RMB for light/big Fajitas.
But there is nothing wrong with tastes and combinations that have always worked. It is there is a bit safe (I'm guessing here. It could be on the cutting-edge of the Mexican cuisine!). , and there's always the other side of the menu for those wanting less traditional offerings. Anyway, it's top marks from me! Or more appropriate … Órale! Órale!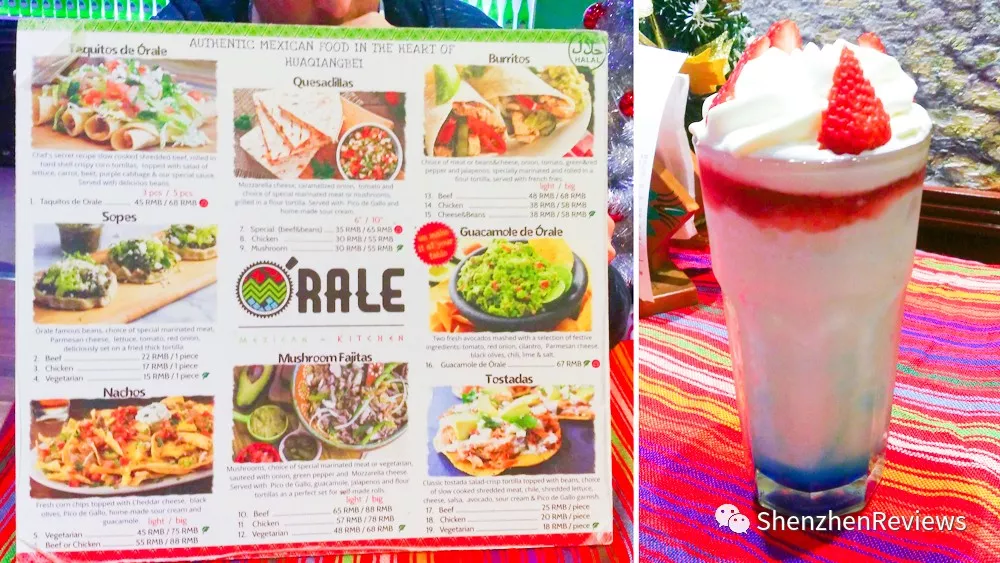 Perhaps to make more of an experience of it we should have ordered the Guacamole de Órale, which is proudly labeled on the menu as being made at the table while you dine. Maybe it would have added to the atmosphere (if there had been one) , but nothing is worse than having staff eavesdrop on your conversation in a diner where you could hear a pin drop, so we dodged a bullet there (and Guacamole seem to come with most of the dishes anyway!).
Beverages
It was a bit odd to see a selection of teas on the menu, but we learned that the restaurant was a merging of a Chinese tea bar and Mexican restaurant. So all's good, and if you like your tea With added lemon, you've come to the right place! Not far off placing a whole lemon in a cup then pouring water on it, they gave an extremely generous helping of lemon slices in the tea, which I was told hit the spot nicely But the pièce de résistance was the remarkably named "Dream Unicorn" smoothie (pictured above), and it totally lived up to its name. Essentially just a strawberry milkshake/smoothie concoction, but it topped off an already impressive meal by appealing to my Strawberry-loving taste buds in a way that doesn't happen often. It was heaven in a glass!


The ambiance and decor at Órale isn't particularly noteworthy besides two aspects; a full wall mural presumably of a town square in Mexico, and a collection of illuminated yellow, orange, and green bottles.  Both of these were nice, memorable standouts.  Less good were the too-on-the-nose sombrero hanging lights.  But to each their own.One major criticism at Órale is the bathroom situation.  Well, there just isn't one.  If you fancy a leak, you have to go over the road to KFC.  In this day-and-age, you cannot open a restaurant without a toilet.

Address: 1/F, Block B, Baohua Building, Huaqiangbei, Futian District

Region: Futian Metro Station: Huaqiang Bei, Line Shekou
Price:  RMB45-65
Phone: 0775 8322 1666/8322 1555
Hours: 11am-9pm